People buy for emotional reasons (80%) and justify with logic (20%).
Your buyer is evolving are you ready to make an authentic connection?
DEVELOP CONNECTION TO THE SALES PROCESS
DRIVE TOP 1% SELLERS' OUTCOMES
INSTANTLY build rapport by mastering posture and tonality.
EASILY handle the top objections of money and time.
ACTIVELY listen to uncover a buyers' pain and problems.
APPLYING authentic personality without sounding "salesy."
DELIVER OPTIMAL CULTURE FOR SUCCESS
BEHAVIOR conditioning empowers success mindset, self-talk and habits.
SHORTENED and enhanced ramp-up to reach full productivity.
CONFIDENCE boosts comprehension, retention and accountability.
DESCRIPTION
Most people focus only on what they are selling and how they are selling it when the reality is people buy for emotional reasons (needs) and justify with logic (wants). This Training provides the skills, and Sprint Coaching refines those skills to embed and enhance the participants' ability to masterfully influence the sales conversation.
If you think about when you learned to drive, the initial classroom lessons provided the information you understood, it wasn't until you experienced learning while driving that your confidence and expertise developed.
To back up this point, research has shown that communication is 55% - Body Language; 38% - Tone, and only 7% - Words. Learning to understand and focus your unconscious drivers is mandatory to make the changes in your life needed to achieve lasting and sustaining long-term results. You will discover how to utilize the other 93% (Body Language + Tone) to effectively guide your prospects through the buying process.
Therefore with Sprint Coaching, participants not only complete the training but master it. The results increase week over week, participants building unshakable sales confidence through measured increased ability. Get ready for a game-changing sprint to unleash your potential and ignite your life.
WHAT DOES THE COACHING COVER...
Live situational coaching.

Create and develop a vision of a successful seller.

Action plans to increase performance.

Align execution with top-performance traits.
On-going performance assessment.
Unlimited Email and Private Group Access
Non-urgent request-response within 48 hours
Sessions focusing on the sales mindset, confidence, and behaviors.
WHAT IS THE DURATION OF THIS PROGRAM...
4-Weeks of Once-Weekly Coaching

.
28-Day scientifically proven daily conditioning. (15-20min).
Establish a top-performing mindset, self-talk, and habits.
Sprint Coaching uses group sessions, run over Zoom.
They are engaging, highly focused 60-minute sessions.
WHO IS THIS TRAINING FOR...
Anyone ready to increase positivity, productivity, performance, and profits. Establish the habit of believing in the vision of your sales success and yourself.
Businesses who want to revitalize their culture and client engagement.

Sales teams who want to leverage their collective wisdom and genius.

Individuals who want to shift perspective and align with purpose.
WHY THIS SALES TRAINING IS NEEDED...
This training provides opportunities to change the way you approach sales and how you communicate one-to-one, in a group, in a meeting, during presentations, online, on the phone, in every way. Develop your full potential and enter the new world of sales.
WHEN DO THE SALES SPRINTS HAPPEN...
Sprint  - Thursdays - March 4th, 11th, 18th, 25th
WARNING!!
My programs provide you with straight talk, support and structure. If you decide this is for you, then you are giving me permission to give you the push necessary to force you out of your comfort zone to connect with more ideal clients. We will be a great fit if you are motivated to take action, determined to produce results, and committed to creating lasting changes. We will not be a good fit if you'd prefer to make excuses instead of making money!
Meshell has impacted my life personally and professionally. I connected with her to sharpen my professional sales skills and received so much more in return. Meshell has helped me find the clarity I was unknowingly looking for. Her ability to be mindful of me as an individual and give guidance accordingly is something I will forever be grateful for. Meshell has helped me understand my value by providing tangible tools, resources, and advice. She is compassionate, wise and amazing beyond measure!!
Kara Vendittelli
Working with Meshell has been an answered prayer. Her coaching has transformed my life. I am achieving the visions in which I see for my career, relationships, health. My life is more abundant since I've gone through her program. With Meshell's guidance, I started a podcast that I had been sitting in for 2 years. I've launched my signature digital training program and I've developed better habits that are leading me to more success. The program ignited my execution fire. I'm now getting my goals accomplished. I highly recommend MeShell if you are looking for a lasting change for the best.
Shennice Cleckley
Meshell is truly a transformative influencer! I've had the privilege of her guidance and coaching to positively impact my mindset, influence, strategy, and performance in the sales realm. And, when you're working on such fundamental aspects of your life, it can't help but spread into other areas! I've become more present in my home life, and I have realigned my health and spirituality into the proper priorities to show up the way I want to in every area of my life. She always shows up as "liquid sunshine" - I can't help but be better by working with her
Jim Bergen
Simply put, "Meshell has a gift." She has a gift of helping others realize their full potential in their capacity as a sales professional and/or as an individual trying to find more clarity in life. I have had the honor and pleasure of working with Meshell in the NASP Sales Mastery course, where I have had the opportunity to learn how having the right mindset vision and strategies can be life-changing in one's sales career and beyond. At one point, I felt "stuck" in a personal situation that was holding me back from realizing my full potential. As a coach and mentor, Meshell has provided me with the life skills and wisdom that helped move me to a better place in my life. I am forever grateful for having such a great role model who truly cares about making a difference in the lives of others. I have been truly blessed with the "gift of Meshell" in my life.
Cathy Butera
Meshell is the best! She is an excellent advisor for the NASP (National Association of Sales Professionals) Certified Professional Sales Person program. She is relentlessly positive and encouraging. She holds you accountable for your performance in the program, but in a way that makes you feel capable of getting done what needs to get done. I will be proud to put CPSP after my name on my business card, and elsewhere, and Meshell is a key part of why I will be able to do that!
Stan Farthing, MBA
Meshell is very knowledgeable within the area of sales. She draws upon all of her experiences to provide the best possible coaching experience she can. Her positive personality is infectious and she will do everything she can to aid you in being a strong sales professional.
Hanna Bond
I loved today's workshop! The coaching provided at the beginning was invaluable and gave me a lot to consider. I learned a lot about myself and what I stand for and how to show that to others through my business. The time to dream and pull together a vision board was much needed and now I have something to look at everyday to remind me of how I want to show up in the world! I am happy to recommend you speaking to any group and workshop. You were very easy to work with, well received by the group.
Rebecca Miller
Meshell Baker helped me create a compelling vision for my life and relationships. After our 30 minute consultation I realized she was the right fit for what I was looking to accomplish in the areas of my life that were hindering my growth. Our sessions were empowering. They mobilized me to get out of the behavioral patterns that were sabotaging me. If you are looking for someone that will help you find the clarity in your life, then I highly recommend you hire Meshell. The changes in me were so compelling that my family also hired Meshell to help them with their own patterns of behavior.
Sylvia Worsham
Meshell was my program lead in a 45 day Sales program. She is a great motivator. She constantly displays and spreads positivity in every conversation. I was really glad to work with her in the program and highly recommend her to anyone needing motivation and positivity. Thanks, Meshell for all the great insights you shared and also for the motivation.
Raghav Subramanian
If you need help establishing the habit of confidence and vision for your business or life, Meshell is the person to work with! She exudes love and kindness in everything she does with her clients. She coaches her clients from a point of what she has learned through her trials and tribulations in order to be a blessing to everyone she comes in contact with. Her advice is priceless and a true investment!
Barbara Castro Torres
This Moment Events
Meshell was amazing-her methods and process for narrowing down values into mission and mission into VISION truly helped me develop a focus for my swiftly changing business. I would highly recommend having Meshell teach your group so that they can align their purpose with their VISION.
Jasmine Cianflone
Meshell has been my mentor/tutor during my CPSP certification. I decided to join the program because it was fully online and I'm based in Italy, but I didn't expect this level of service from Meshell. She has been able to fill the gap between the USA and Italy with 1 to 1 calls, coaching, and providing me with all the study material to complete my certification. She has been a great advisor!
Tobia La Marca
Meshell's passion and excitement captivated me in The VISION seminar I had the honor of attending. She has developed a unique process to guide people through what's most important to them-and then help them capture that vision in words and art. She also teaches participants how to live their vision and how to share that vision with others in the form of service. If you are looking for a dynamic and motivated speaker who will truly touch you and your participants on a soul level, Meshell should be your top choice.
M. Shannon Hernandez
Meshell & her team at NASP has helped mold me into a better leader for my team...and my family. During the program, they kept encouraging us to choose role models that inspired us in one vein or the other and model their behaviors. I don't think Meshell realized that she was one of the role models that I chose for effective communication. She has a knack for making the complicated...simple. This is one of the many character traits that allow her to lead with confidence and show others how to do the same. I am happy that our "virtual" paths were able to cross as I better understand exactly how key communication is in our professional & personal lives. Keep being great, Meshell!
Michael Jones
Meshell leads a "vision board workshop" that blew my mind. I have always loved writing goals on sticky notes and putting them where I can see them, to keep myself moving toward them. I have also loved making "vision boards" to have pretty, aspirational images to keep myself motivated. This is the first time I've had BOTH in one place — because Meshell has a powerful process of goal forming BEFORE making the board. So now I have a beautiful vision board that truly represents where I want to go. Can't wait to do it again — because goals change over time!
Shelley Delayne
Meshell Baker is an amazing and energetic person that inspires and helps people find clarity, establish visions and build confidence to achieve personal and professional growth. Working with Meshell the past couple of months has been a divine intervention for me and one I will always be grateful for. Her ability to meet you where you are at in life and support, train and guide you to where you want to be is a unique gift that is hard to find. I look forward to continuing my work with her on my Sales Mastery journey and highly recommend reaching out to Meshell, if you haven't already, so she can help YOU level up.
Jenn Donaldson
Meshell is a powerhouse leader, organizer and strategist. If you need someone focused and committed to results, she's always the go-to person. Every chance you get to be on her team, you know that the project will be done on time and completed with excellence.
Susan Seay
When I remember the 45 days daily engagement I had in my Certified Professional Sales Person (CPSP) journey, I felt that it was equal to years of engagement. Meshell is truly passionate about helping anyone succeed! She has a wealth of real-world experience in coaching, management, and sales. Her people-first approach gives me a new mindset and skills that translate to growth personally and professionally. Because of my mentorship with Meshell, I have been able to take my career to the next level and create a new identity that switched my life. I do recommend Meshell for any engagement as she will be always "smiling, helping, coaching and value-add person" See you in my next courses and certifications.
Omar Al Deek
Meshell is a beautiful woman inside and out. She truly has a special gift of connecting with others, and empowering them. Since beginning our group 9 months ago my life has changed for the better. I have a completely different outlook of who I am through Him, and how changing simple daily routines can greatly impact my life. Meshell is one of the most dedicated people I have ever met. Witnessing her hard-work, dedication and passion for God is contagious. I would strongly recommend her as a coach. Her ideas are simple yet practical, and require faith and a lot of dedication, but will change your life. Sincerely,
Amber Barnett
Meshell is an amazing resource whose personality is an absolute fit for her role as one of NASP's Sales Advisors. Taking me through the 6 weeks CPSP certification, I was able to craft a vision of who I want to become and how I can begin to visualize the future in the now. She also imparted and emphasized the use of the words 'i am' as against 'i want to'. Fortunately for me, this has stuck indelibly to my unconscious for life.
Meshell is
a rapt listener
a coherent conversationalist
a soft 'smiler' 😊
a powerful influencer and
Someone who always believes in you.
With Meshell, there's no downtime and I am always ready to recommend her any day and without any reservations.
Segun Medaiyese
Meshell was my Sales Trainer, Confidence Motivator and Program Facilitator when I took the Certified Professional Sales Person (CPSP) program at NASP. Meshell spent extra time with me to explain the importance of language when it comes to developing new mindset, performance, influence and strategy goals (aka visions). Meshell was a mentor and pivotal towards my accelerated growth during the course, as well as my continued growth in the Sales Mastery program. I am grateful to work with Meshell and to have her positive influence in my life. I recommend her for any position that lets her skills shine when it comes to helping people with their personal and professional development. She is authentic, a straight shooter, incredibly caring, and invested in ensuring that her clients reach their desired outcomes.
Adriana (Cook) Jenson
Meshell designed a wonderful sales leadership program at NASP that truly inspired me. Meshell has exceptional expertise in motivating and inspiring learners to dig deep in the learning journey. She is not only brilliant but also an inspiring individual. I am grateful for the insights and new perspectives that I gained through completing the Certified Professional Sales Leader program.
Delia Smola
Reaching for a dream is the scariest thing I've ever done. It wasn't until I sat in a Dream Big session with Meshell Baker that I had to face the cruel truth that I was a coward. I have dreamed of writing a novel for over ten years. I knew the characters and the story but every time I put pen to paper or fingers to computer my sense of commitment would vanish. December 2014 I did a vision board session with Meshell as part of a Dream Big seminar and when I looked at that board at the end of the session I realized that I was missing the greatest part of who I am or more importantly, who I might be by not moving forward.
What I learned in that session that living is not enough. Living with a purpose is our one true calling. We can resist it or we can give into it. The fear that I had, that many of us have is that in giving in to it, we may lose something. I felt empowered enough to take a leap of faith and hope and trust. I committed to writing my novel. Half way through that process, the old fears returned. So looking at my vision board I faced the fear and sent 200 pages out to a small group of readers. I waited. I sweated. I cried. When the feedback came it was an affirmation of the story and my ability to write the story. But more, one of the readers loved it so much she shared it with an agent. Seven months after my life altering session with Meshell, I now have agent representation for my first novel. And I know that I can do it. And I know that I can be a writer because I am a writer. Dreams do come true… but only if you commit to them.
Thank you Meshell Baker! I'll always remember to DREAM BIG.
Austin Patrick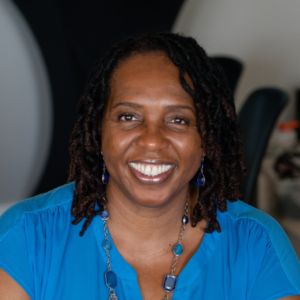 Meshell's Master Training is guaranteed to keep you engaged, amused, and teach you life-changing skills for professional and personal life!
Meshell along with her team,  leverages her 25+ years of sales success in more than a dozen countries, to help people grow, and to deliver the extra-ordinary that creates superfan client relationships.
Incarcerated at the age of 20, Meshell leveraged this valuable lesson to become her greatest advantage. She masterfully teaches you to capitalize on your current conditions turning your obstacles into opportunities and problems into possibilities. She is referred to as "an amazing gift of clarity." And is renowned for her no-nonsense approach that inspires audiences.
Meshell is an amazing gift of clarity and is renowned for her no-nonsense approach that encourages sales to be less transactional and more experiential. Her unique approach to sales success is scientifically supported to create intentional behavioral changes that deliver rock-solid confidence.
FAQ's: What Do You Need to Know to Enroll?