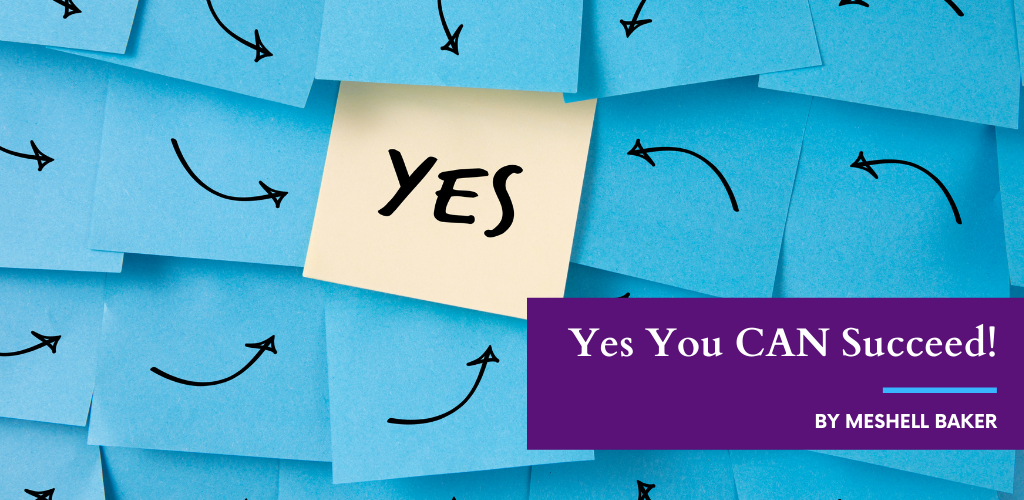 I get lucky because I never gave up the search. Are you quitting too soon? Or are you willing to pursue luck with a vengeance?"
Meshell's Success Misnomer #1 – There is no can't. There are an infinite number of ways to get to your desired result.
Let's get right down to it. The reason you are struggling is not because of a lack of resources. But instead, it is your doubts limiting our ability to activate our resourcefulness.
There is NO ONE telling you that you can't succeed.  The only thing between you and everything you desire is your thoughts.
It's too late to call them.

I waited too long to follow up.
These and many more negative thoughts and inner voice chatter are bringing your drive and determination to a screeching halt.
And all that you are left with are the feelings of dreams deferred and disappointing thoughts that unchecked will breed more excuses and alibis of why you can't or why you're not ready. You are repeatedly telling yourself, I…
A – Accepts
You see can't is just a symbol of your disbelief in your abilities. What has happened, over time, is a deep-rooted distrust of yourself. This brings forth behaviors of minimal effort followed by your endless discussions of why it can't work.
To have the career and life you desire demands aligning your thoughts to empower you to create and deliver possibility. This is the ultimate sale and how you sell yourself. By believing that there is no problem too great for you to deliver.
What do I mean by possibility? It is your belief in yourself to create, to direct your thoughts toward a favorable outcome for all involved. This is why the Top 1% of Sales Performers are exceptional. They work from the inside out. Believing first and foremost in themselves and their abilities before engaging prospects and customers.
Are you your own No. 1 Fan or your worst nightmare? Would you talk to your best friend or beloved the way you speak to yourself when things don't go right or as expected?
This is real talk I'm giving you. Why? I strongly believe that confidence empowers you to bridge the gap and create your I'mPossible Success. There are limitless ways to discover your answers and solutions as well as an endless abundance of opportunity and it all begins when you believe You…
Remember the word 
can't
 stunts your thoughts and deters you from creating the extraordinary outcomes you deserve. 

People who do incredible and amazing things are those who defy the odds and achieve greatness do so despite their humble beginnings, upbringings, devastating setbacks, and heart-stopping losses. 
They look past what is visible to their eyes and focus on the unseen and unknown.

Are you ready to create your greatest and grandest vision? If so, then join me on
January 8th, 2022 from 12-2pm CST at the Virtual Vision Board Party
BECOMING A NEW YOU IN 2022!
I believe the best way to improve your sales is to improve your mind. The best way to achieve this is, to begin with, a clear and compelling vision (target) for your success.
I welcome you to join us and experience the power of your belief! You 
can
 and will succeed. Together we are creating our amazing careers and lives. Come join us!
And if you can't join, please share this post with anyone you know looking to impact and increase their impact, income, and influence. And thank you for helping me get the word out.
❤️