5 Successful Women In Business And What We've Learned From Them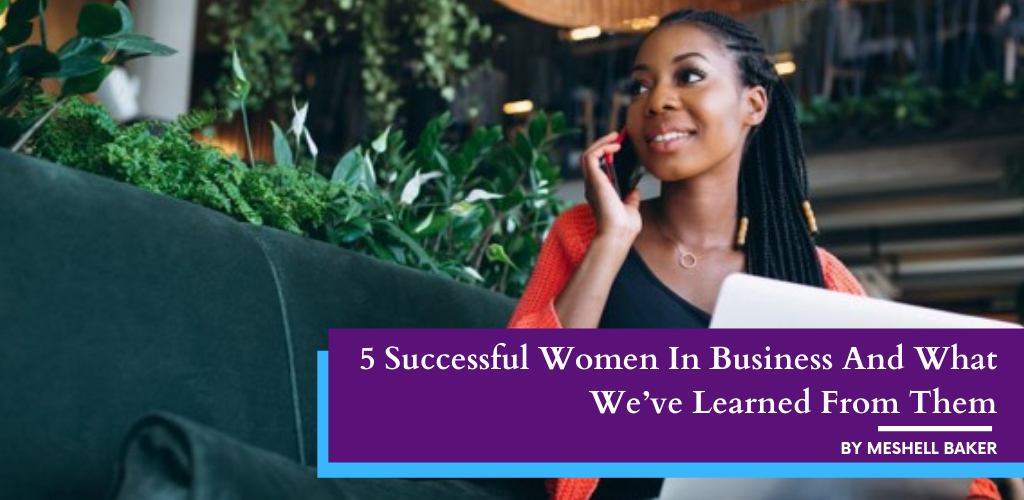 "Success is liking yourself, liking what you do, and liking how you do it."
~Maya Angelou ~
The business world is being overtaken by powerful women.
And this is long, long overdue. As successful women in business, the road to a position of power can be sprinkled with doubt, misogyny, and societal barriers. However, there is nothing that can stop a woman that knows what she wants and what it takes to get it.
What do the most influential women in the corporate world have in common? Drive, confidence, and passion. They trusted themselves, invested in themselves, and made their voice heard, no matter how hard the challenges they faced in their life became. 
Getting business advice and following a recipe for success can seem like an easy path, but it can only be if you begin your journey by working on yourself and your trust in your own capabilities. The following list of female entrepreneurs stands testament that successful women in business all have in common a powerful mindset.
5 Successful Female Entrepreneurs
In 2022, there are successful women entrepreneurs in any industry out there. If you can think of it, there is most likely a woman out there making it happen. 
Because I couldn't possibly make a list of all female entrepreneurs who have made remarkable things in the world of business (it would be more of a book series), I have made a selection of one from each of the 5 categories below.
Workforce Management
Janice Bryant Howroyd
Not only is Janice Bryant Howroyd a remarkable business owner, but she has made history by being the first African-American woman to lead a business with 1 billion dollars in annual revenue, paving the path for successful women in business of all races.
Her business, ActOne, is largely a Los Angeles-based employment agency and consulting firm. It has over 17,000 clients in 19 countries, and Howroyd, unlike many of her male business counterparts, began with extremely humble beginnings. In 1976, she started her business with just $1,500. Quite a contrast to 2020, when Forbes included her in their list of America's Richest Self-Made Women.
Beauty & Fashion
Rihanna
Despite most knowing her as an established singer, with an array of hit songs that have brought her immense fame, on top of that, she has her own entrepreneurial journey to boast. 
Her cosmetics line, Fenty Beauty, is one of the most well-known beauty brands of today, thanks to its high quality and appeal. The business hasn't only brought her notoriety, but also a 600 million dollar fortune.
Rihanna is an emblem of femininity, and she has taken advantage of this by also investing in another business venture, her own clothing line, more specifically, a lingerie brand named Savage X Fenty. 
By trusting herself and her many talents, the young singer is now a voice on the radio, a product in our favorite skincare line-up AND the piece of clothing we feel sexiest in, thus making her a household name in the beauty, fashion, but also music industry.
Real Estate
Zhang Xin
Her story is just as impressive as you would expect a story of all successful women in business to be. She went from working in a factory to getting her degree in economic development at Cambridge University, to working at Goldman Sachs, and, finally, creating her legacy as "the woman who built Beijing".
In 2007, SOHO China, a development firm in the real estate business that she is the co-founder of, went public, making her one of the most well-known and respected names in the industry. Her fortune matches her hard work, nearing an impressive 3.5 billion dollars.
Biotechnology
Kiran Mazumdar Shaw
It has become quite a trend on this list that the women who have made it are mostly self-made and have worked hard for the names they have established for themselves. Kiran Mazumdar Shaw is no exception, starting a pharmaceutical firm in a rented shed at a young age, and growing it to become the biggest Indian pharmaceutics business by revenue.
She not only changed her own life, by making incredible amounts of money, but is also changing millions of others: in Malaysia's Johor region, the firm has sold 3 billion doses of insulin and operates Asia's largest insulin factory. 
If these accomplishments were not impressive enough, she is also part of the effort of stopping the COVID-19 pandemic, as her firm is collaborating with a large US company to create an antibody therapy to prevent the coronavirus.
Media and Entertainment
Arianna Huffington
Arianna Huffington founded The Huffington Post. After selling it to AOL for an impressive $315 million, she remained a key figure in the company's everyday activities. 
She left The Huffington Post in 2016 to found Thrive Global, a health and wellness firm that she now oversees as CEO. It comes as no surprise that her name can be found in Time Magazine's list of the world's 100 most influential people, given her entrepreneurship skills and fascinating business history.
Becoming The Strong Woman You Strive To Be
All of these incredible stories about successful women in business stand testament to the fact that you can do it, with the right mindset, focus, and motivation. You are strong, you are capable, and the key ingredient is the trust you need to have in yourself in order to set things in motion and begin your desired journey.
If you are ready to make a change that has been overdue your entire life and start working on yourself take your first step and schedule a call to discuss what success means to you.
Book a call and clarify your next step towards amazing. Click here to start your journey: https://meshellbaker/discovery-call